Even though applying for a job at Walmart online is still the preferred method for most candidates, you could also fill out a PDF application to then print it and hand it over yourself at one of their stores. So we will see the two ways in which you can start your career at Walmart, which are valid for entry-level or administrative positions.
How to apply for a job at Walmart
I have already told you that there are mainly two methods that you can use to apply for a job at Walmart, but whether you want to do it online or in person, you need to have time (about 30 minutes) and a resume from which to extract accurate information about your work experience, studies, references, etc.
Walmart online job application
In order to find a job at this major discount store chain, candidates may apply to any position at Walmart's career website. Follow these three steps to apply online:
1# Access https://careers.walmart.com to create an account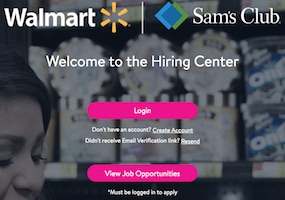 2# Now complete the job application, filling out the 5 forms and final questionnaire


3# You can now find the job that interests you and apply to that job offer

Walmart PDF job application
Another option to apply for a position at any of Walmart's job offers is to hand in the following PDF job application form in person. All you need to do is download it and fill it out on your computer, or print it and complete it by hand, to then hand it over to the manager at any of their stores.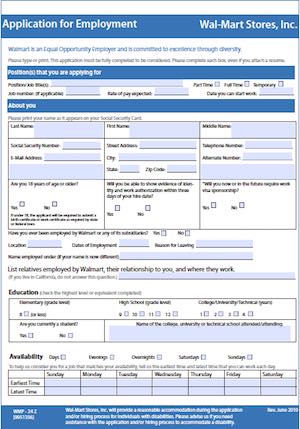 Requirements to work at Walmart
There are several requirements that you must meet if you want to work at Walmart. First, you need to sign up and create your profile on their website (walmart.com/careers), but they will also ask the following of you:
If you are selected after the first job interview, you will need to pass the criminal record verification or submit to a drug screening if so requested.
You will also need to keep in mind that they are looking for people who are nice and efficient, capable of offering a good purchasing experience to the customers.
Age requirements to work at Walmart
You must be 16 or older. For certain positions, they ask for a minimum age of 18 years, and that is also the minimum age for Sam's Club.
Check the status of my application at Walmart
There is no predetermined time for them to contact you and tell you whether you have passed the first stage, so you can check the status of your application in two ways:
If you have applied online, they will let you know if you have failed to qualify for a job interview. But you can check the status of your application in the account you have created with Walmart.
If you have applied in person using a printer form, you can call or go to the store after a few days and ask the recruitment manager.
Jobs at Walmart
We have already seen how you can apply for jobs at Walmart and Neighborhood Market stores, so we will now see the job offerings at these stores:
Cashier & Front End
A Walmart cashier is in charge of scanning products
Answer customers' inquiries, explain prices and promotions
Count money, keep the working area clean and assist other associates
Cart assistant and concierge
You will be in charge of putting each cart where it belongs and maintain the cleanliness of the store
You must keep the restrooms, the interior's floor and the parking lot clean
Warehouse, back of the house and reception
This job demands significant physical effort
Your job may be to restock the shelves with food products, work at the warehouse or unload trucks
You must greet customers and respond to any questions
Sales associate
You will be in charge of helping customers find a product they need
You will also be charged with keeping your area neat, clean and stocked
Fresh food associate
Keep delicatessen, bakery, diary and other departments stocked
Prepare and serve food or package products ready for consumption
Help customers complete their orders
Special roles
They look for car maintenance professionals, pharmacy technicians, opticians and security officers:
Vehicle maintenance: oil, filter and tire changes, etc.
Vision center: perform checkups, prescribe glasses or contact lenses
Security: protect the company's assets and help everyone feel safe
Department manager
In charge of supervising a department and keeping in order
Works together with sales associates, but makes decisions
Greets customers and addresses their questions
Remodeling associate
When a store is remodeled, they are in charge of keeping order and guiding customers
Organize the inventory, organize the store's products and unload trucks
Salary
Walmart pays a minimum hourly salary of $11.00. This salary can be higher depending on the job position or your experience.
Manager salary: $ 50,000 to $ 170,000 a year.
Walmart employee benefits
Various health insurance options
• Dental and vision insurance, which includes people under your care
• Discounts at physical and online stores
• Share acquisition and other 401 (k) financial benefits
• Educational assistance for employees and people under your care
International candidates
Walmart and Sam's Club can sponsor work visas and green cards for candidates who are selected for professional administration or specialized positions.