Here you will find several examples of standard job application forms in PDF format, printable and valid for applying for a job. You can print the forms and fill them out by hand using a pen or edit them on your computer using a free PDF reader such as Adobe Acrobat Reader.
What does a basic job application form look like?
Even though there is no standard job application, what every job application form does have in common is a series of sections in which candidates are asked the same questions, without discriminating based on sex, age, race, birthplace o religion:
Personal information
Position that you are applying to
Education
References
Previous jobs
Signature and disclaimer
Printable job application forms in PDF
I have added several PDF and Word templates so that you can have the job application form best tailored to your situation ready for printing. Take a look at the description of each of them and use the one that best suits your needs:
Standard US job application form sample
This is a standard US job application form, so download it for free and fill it out with your details to apply for a job.


Generic job application form for Alaska
This application model is proposed by the Alaska Department of Labor and Workforce Development itself.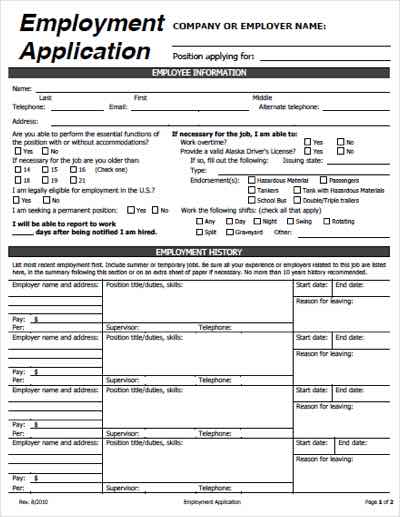 Standard application for employment (For employers)
Any company looking to hire new employees may use this form to collect information on job applicants. The template can be edited to add in the company name and logo.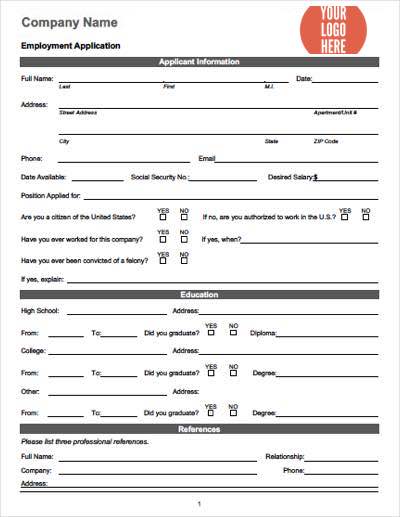 How to fill out a basic job application template
A job application form is a standardized document for every candidate to be able to apply under the same conditions, but it is still similar to a resume, where in addition to entering certain basic information, one must also add any diplomas and professional experience that is most related to the job that one is applying to.
Our forms can be printed and filled out by hand
You can download the template and fill it out on your computer using Adobe Acrobat Reader
There are companies that give you the option to fill out their application form online on their employment website
Applicant Information



In this section we will need to add our personal and contact information. They will also ask that we specify the position that we are applying to, our social security number, our salary expectations, the day when we would be able to start working, and our legal status in the country.
They may also ask about felony criminal records, military service, and whether we have worked at the company before.
Education



This space is reserved for our high school and university studies, and the diplomas that we have obtained.
There is a space where you can add any additional information, you can seize this opportunity to add any diploma that is related to the job you are applying to.
If you have not yet finished your studies, you could specify the date in which you started and when you expect to complete them.
References



This is an important part of any job application, because it will give your future boss the confidence of being able to contact your previous supervisors and ask how you performed while working at their company.
I have references: enter the full name and contact information of the person that can be contacted for reference. Prioritize any professional contact that is not directly related to you.
I have no references: there is always someone that can give good references about you and your skills. If this will be your first job, you can name a teacher/professor or the supervisor or any internship.
If you did not have a good relationship with your boss, you can give the contact information of the Human Resources department, who will offer a more unbiased view of your time in the company and your departure. What you should never do is give false references or offer to give references about someone in exchange for that someone giving references about you.
Employment History



Start by filling out the most recent jobs first. You should avoid specifying jobs dating back more than 10 years.
This information will be useful to the recruiter to see the practical skills and professional experience that you have been able to acquire during your previous jobs.
Military Service


If you have served in the military for enough time, here you will be given the opportunity to give information about the branch that you picked and the rank you attained.
Disclaimer and Signature
At the end of the form you will have to sign the document, certifying that all information is accurate and giving the employer permission to verify the information if so required.
It is important for you to respond to each question concisely and truthfully, highlighting the jobs and skills that are most related to the job that you are applying to.
The dates, diplomas and positions must fit your resume. Otherwise, you may run into trouble during the work interview.

-> Apply to hundreds of jobs online