Follow these steps to fill out an online job application for Dollar Tree, which you will need if you intend to apply for a job at their dollar stores, warehouses, or to set your corporate career in motion. You will also be able to download a PDF application and see the requirements that you must meet if you want to be successful.
Filling out the Dollar Tree online job Application form
1# Access their career section (https://www.dollartree.com/careers) and select the department where you want to work



2# Find the job you are interested in using their search engine and sign up using you social network account, or by creating a new account


3# Once you have signed up you will be able to apply for a job. The application process will take between 7 and 9 minutes.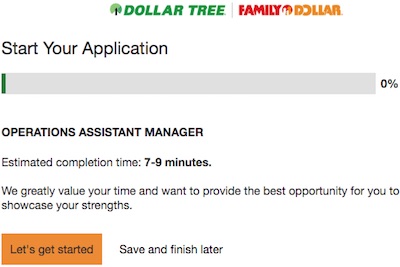 If you sign up using your LinkedIn, Facebook or Twitter account, the registration process will be much faster. Keep in mind that the system will collect your profile information: name, email, phone, etc.
The application process
In the first section, you will need to answer basic questions about your age, employment situation in the United States and relationship with Family Dollar and Dollar Tree
In the second section you will be able to add your resume or use your profile
The third section is dedicated to adding your contact information. You will be able to import data from your resume or fill out fields regarding: education, work experience and skills
In the fourth step, they will ask that you certify that all the information that you have specified is truthful; otherwise it may be a reason for dismissal
Once you are done filling it out, all you need to do is submit your application and wait for their answer.
If you have applied for a job as a store manager or assistant manager, you might receive an e-mail to continue answering a few more questions.
Dollar Tree PDF job application
If you want to apply using a PDF job application, Dollar Tree has a printable version of its application form available: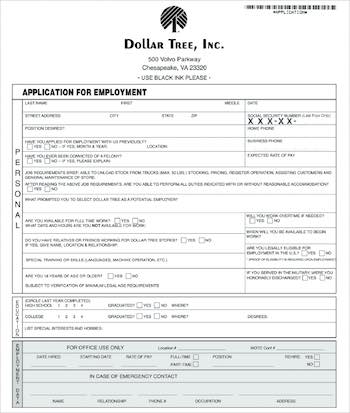 You can fill out this form at home and then visit any store in your area, so they can meet you and you have the opportunity to hand it over to the manager or HR personnel.
Remember that they also hold recruitment events at their stores, so use the opportunity to get them to meet you, find out more or hand in your application.
Submit your resume to their job board
This is an option where you will not submit your resume for a specific position, but instead you sign up to their job board. The Human Resources personnel will read your application and resume to keep you in mind when there is an opening that is related to your work profile.
Requirements to work at Dollar Tree
You must be 18 years of age or older
Be legally eligible to work in the U.S.
Previous experience at the position
When applying as a sales associate, they will especially value any previous experience you have in retail sales, management skills and communicational skills.
If you will apply for a position at the warehouse or distribution centers, those that have an experience of 6 months in distribution centers or warehouses, HSD or GED education and physical strength to lift weights of 50 to 80 pounds run with an advantage.
For cashiers and stockers, there are usually no minimum requirements, since these positions are generally filled by inexperienced students.